Caution: VERY LENGTHY POST AHEAD
Frankly speaking, I have a very specific, idealized image that mostly all people I deem beautiful exhibit, in terms of their face. But let's be more specific about what sorts of people--in this instance--models.
I have a preference for models with what I consider
le look
--high cheekbones, pointed noses, arched eyebrows, strong jawlines, chiseled faces. What do they all have in common? SHARP.
*Oh yeah, before I get totally get carried away with this, I'll just say that I have a tendency to
overanalyze
and ramble and uh, am extremely passionate when it comes down to tying fashion with psychology.
Going back to the ideal, sharp face... it all looks very edgy and
bold
. Indisputably powerful. There's something irresistibly eye-catching about sharpness in a face, a form, in anything in general. Sharpness and edges are
defining
(does this make sense?). Think about fairy tales and classic stories in Western literature. The heroes/heroines/protagonists in the illustrations tend to have very defined features, no? Noble features. I don't know about you, but when I think of characters the likes of Cinderella and Prince Charming, I think of people with noble faces--defined, sharp, chiseled features, NOT some rounded face (do I sound like a nut?).
Gustave Dore - La Pia (Purgatorio by Dante Alighieri)
The above image is iconic, to me--in fact, it's forever engraved in my memories. The first time I came upon this image was in English class in 9th grade, when a guest speaker came in to discuss
The Divine Comedy
(
Divina Comedia
). She brought in a picture book (not the kind that is meant for children) which had this image. I thought it was simply stunning--look at those faces! They're just perfectly sharp and noble--especially Virgil's. This chiseled look has been the ideal for centuries, and I can totally understand why. Anyways, I'm getting ahead of myself...tangents.
Right, but okay, obviously not all models have angular, chiseled, European-nobility type faces. So what else do I look for?
Eyes. They hold just as much appeal as the shape and angle of the face, to me. Normally, a powerful model will have a gaze that will just
steal
the page/look away--it's not surprising if the first thing that you notice is his/her eyes. Especially if they're strikingly-colored--GREEN. Models with green eyes are just
stunners
. But color is of course never the sole matter, not with eyes, not with skin, not with anything. For eyes, there are certain shapes (I've yet to determine how to describe them) that are especially fanciful. And aesthetically speaking, the most powerful, important aspect of eyes is how you use them--how you stare at the camera, so to speak, how your gaze is conveyed, what sort of emotion you use behind them. I don't care whether you've got green, brown, or blue eyes if you do/don't know how to put some personality into them, which brings me to another ideal aspect of qualities I look for in people, in models...
Even if someone doesn't have an angular, chiseled face, or shockingly piercing green eyes, this is the one quality that could win me over in a heartbeat--ATTITUDE. PERSONALITY. CHARACTER. This is the defining, decisive point. Nobody cares much for an empty shell who looks like they don't give a damn for what they're doing in front of a camera, swathed (or not) in garments many a soul could never afford or lay eyes on. Au contraire...let me think. I classify a lot of models by the persona they convey, both on and off the runway. Typically all the models that are my muses exude
power
--they are/can be FIERCE. I'm totally enamored by
people in general
who can walk and talk with conviction, who have fierce gazes and deliberate actions. And certainly, people who exhibit sensuality--though I tend to group them with the power type, since you've got to have a certain power to be provocative and sensuous...or to stop traffic (that's a story for another time). But oh, I love people who can bring smiles with their playful/mischievous charisma equally as much. There are so many other personalities, but I think you get the gist.
The bottom line of the ideal form I envision is a lean or toned body and tall stature. But interestingly enough, much of what I covered above in regards to the face applies to the body, too. Sharp, straight bone structures give a refined, noble image. Voluptuous, curvy figures ooze sensuality. Both are equally fine.
When we think about it--the image I envision is essentially a stereotype. Stereotypes certainly have EXCEPTIONS and flaws. But that's just like how this world is, how life is, and yet it is nonetheless beautiful, as are those exceptions and flaws.
Some random photographs of a few of my model muses that I just randomly thought of for no particular reason (but are still gorgeous nonetheless):
Julia Stegner
(via Fashion Gone Rogue)


Tao Okamoto
Okay...Tao Okamoto. MUST say something about her. Hair. I just love this haircut. Absolutely fresh compared to her in long locks. I could go on forever about this, but...
Anja Rubik

The camera
loves
Anja Rubik, I'm lead to believe. She is the model that drew me into fashion, which I sort of explained in this
Tumblr post
, and although I don't like playing favorites, I have to say that she ranks
very highly
amongst my muses.
Jaco Van De Hoven

Jaco Van De Hoven - HIS EYES ARE KILLER. He's a pretty new face in the fashion realm, and I normally have an aversion for androgynous guys, but he's an exception.
Oh, and about androgyny...
Splendid. A few of the female models on my top muse list can pull of androgyny perfectly, like Tao Okamoto and Freja Beha Erichsen. But...in my opinion...male models ought to be what they are--muscular (but not colossal like The Hulk, please) and lean, and distinguishably male.
Quentin Matthys
Mark Cox
(via TFS)
Benoni Loos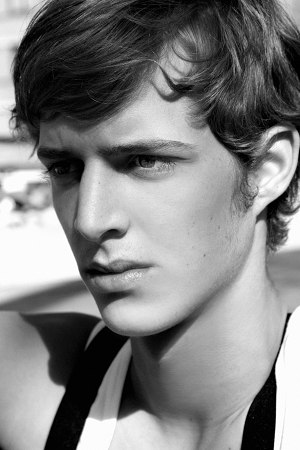 (via TFS)