This post has been long-past overdue.
Adriana Giotta by Helmut Newton
If I had a chance to talk to any two people, dead or alive, I'd want to have a conversation with my mother and Helmut Newton.
Helmut Newton is the photographer I worship. Think of it this way: just like Vogue is/was considered the fashion Bible, Helmut Newton's work is the bible of fashion photography and black-and-white portraiture.I find myself blown away every time with each and every single photograph no matter how many times I've seen them before, for his portraits have absolutely no equal.
Semi-related but not really, can you just check the
price tag on these two portraits
of Newton's?
Yeah.
Also, unfortunately, so as not to offend people...I've decided to keep my best thoughts and favorite photographs under the cut because the images would probably be considered NSFW. Not safe for work or viewing near other people who do not understand and appreciate...tasteful nudity, among other things.
Sure, you've seen sex, nudity and violence in portraits. The typical oh-so-risqué fashion photograph? The
sex sells
concept? Newton
perfected
that formula and concept that so many photographers and photographs strive to emulate. He (arguably to some people, indubitably to me) revolutionized fashion photography--especially in terms of black and white portraiture. I've seen countless renditions of Helmut Newton's portraits and trademark ideas. How many times have I seen a photograph and thought,
Oh, that's a Helmut
, or,
Oh, that looks familiar--oh wait--Helmut has done that before
. I'd venture to say that nearly half of all black-and-white fashion photographs have been inspired by Helmut Newton.
There's more to Newton's portraits than, say, the nudity (which is what people tend to notice most). There's an aesthetic to it--it's lush, provocative, and erotic--but not trashy by any means.
His portraits make manifest the power and beauty of women in their purest form. Pure power, pure beauty. Strength.
No one does it better than Helmut Newton when it comes to women.
My words won't do his work justice. I hope that you can appreciate and understand why I love his photographs so much just by looking at some of my favorite photographs of his:
"Le Smoking" (1975)
Helmut Newton, together with designer Yves Saint Laurent (another one of my inspirations/muses), popularized the suit and style for women. If I made a list of the top ten photographs that influenced and sparked my interest in fashion photography--this portrait would be at the top of the list.
Margareth Lahoussaye-Duvigny (1997)
Favorite Polaroid in the entire world.
Bergstrom over Paris, 1970s
David Lynch & Isabella Rossellini
All I will say about this is that it's a deeply striking and poignant portrait of the two.
P.S. David Lynch is one of my favorite directors.
Self-portrait with June and Models
(1981)
There's also a certain degree of intrigue in Newton's photographs that you just really can't find elsewhere. For instance--the woman sitting on the chair to the right of the mirror is June, Helmut's wife. And she's watching him as he photographs himself with the model. I've always wondered what June was thinking in that one shot, and what she really thought of Helmut and whether she was ever consumed with jealousy. But somehow I think that she did love him the whole time he was alive (they were together til he died), since she went to great lengths to produce a documentary and filmed him even though he was a very difficult person to deal with on (and off) camera.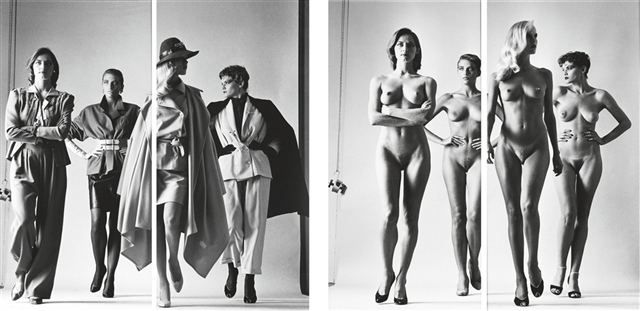 Naked and Dressed
The juxtaposition, the parallels. My favorite. There's a
completely
different vibe between the two portraits despite the near identical poses and positions of the models. The one on the right--
damn
.
Big Nude III (Henrietta), 1980
Officially the most striking portrait and ultimate dedication to the female form.
This is also the cover to Helmut's book, SUMO (published by Taschen), the "biggest and most expensive book production in the 20th century." It is a "titanic book in every respect: it is a tribute to the twentieth century's most influential, intriguing and controversial photographer. Measuring 50 x 70 cm (20 x 27.5 inches) and weighing approx. 30 kg (66 lb.), the book contains 464 pages, breaking any previous record. SUMO is a truly unique publication." Guess how much it costs?
A whopping
$15,000
.
If I ever got my hands on a
SUMO
(there are only 10,000 copies in the entire world), and if it were to ever get on my bookshelf--I would absolutely die.